I rode north out of Pornic until I arrived in St. Brevin and the official start of the Eurovelo 6, YEAH! The first part of the Loire is an estuary and not very interesting. When I arrrived in Paimbeauf and the sun was shining and I saw a nice route along the river, I had to celebrate with a beer and conversation with the locals. They seemed very interested in my journey, once we got over the language barrier.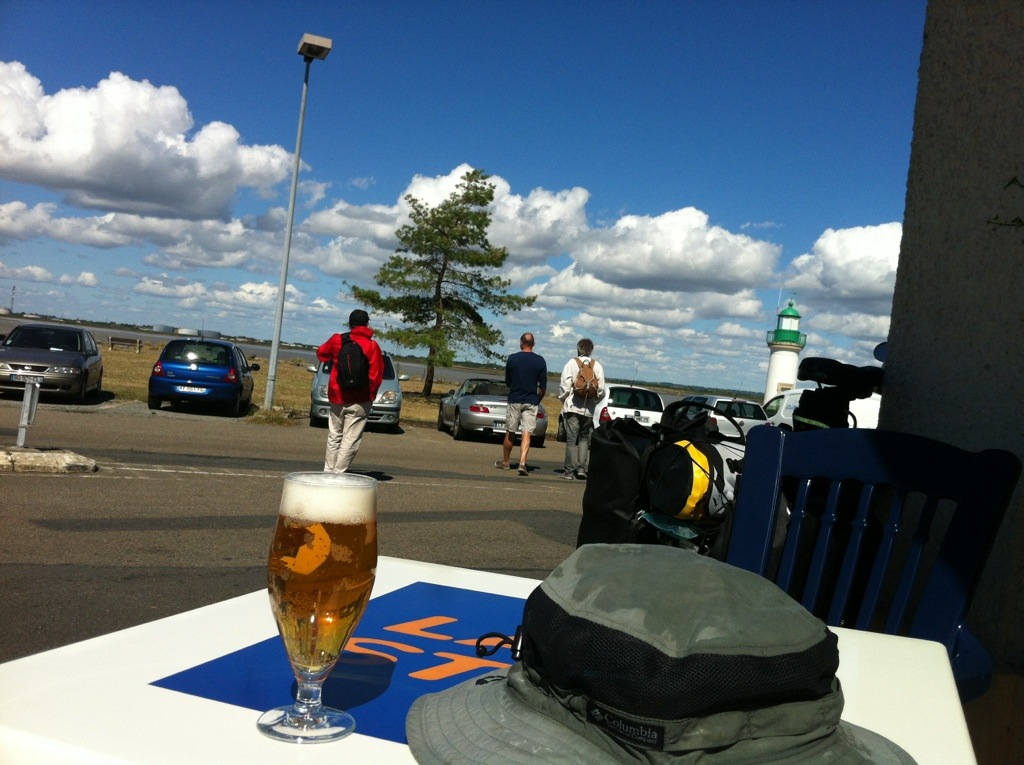 Nantes is big city with a sprawling suburb that I had to get through before arriving in the historic center. My first stop was the Chateau. The Chateau had a nice outdoor bar with some friendly looking locals so I sat down, ordered a beer, and decided to try to get some info on Nantes, since the tourist office was closed. It was getting late and I still didn't have a place to stay. I started a conversation with a couple different tables before Anthony came to my rescue and looked up a hostel and then found the local campground. He called the campground and, luckily, reserved a spot for me. I got a bit lost, as is often the case, and by the time I reached the campground it was just after 9pm and the staff, ready to leave for the day, were waiting my arrival.
I set up tent and took a shower. Since it was Saturday night and only 11pm I made the 5km journey back into town on a very dark riverside path. I found the bar row of Nantes which included plenty of options for a kabob, so I sat down for my first Kabob and frites of the journey.
Day 3 – $25.55
$1.20 cafe
$8.85 camping in Nantes
$9 beer
$6.50 kabob
Total $63.05
The total spent to-date is $63.05 and the average to-date is $21.02